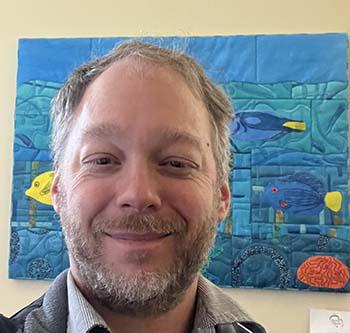 My story thus far...
I have worked in the higher education IT field for over 29 years and I proudly wear the title of geek. 
My grandmother has sewn and quilted her entire life and she's given me a number of her quilts. One day in 2016 as I was looking over the quilts she had given me, it occurred to me that I could try doing this! 
I dabbled in a number of projects and attempted my first quilt.  First quilts never go well!   I shifted onto other small pieces, experimenting in a huge variety of blocks and such.
Then I discovered the world of quilting acrylic canvases in early 2018.  I fell in love with it.  I've developed a number of very unique vibrant styles around pineapples and sea turtles, but I particularly enjoyed incorporating rainbow themes into my work.
In 2019, I took a chance and submitted one of my pieces to the Lyndon House Juried Art show here in Athens.  I was very pleasantly surprised to make the cut!  It was the brightest spot of the year.  
Many of my items are inspired by my love for Charleston, SC and the Low Country.  We have been visiting the area for over 17 years.   Some of those themes include the sea turtles and pineapples.   The pineapple particularly caught my attention, since it's the international symbol for welcome and hospitality. My favorite way to use the pineapple has been to adapt it to the rainbow for the ultimate, all inclusive welcome.
After testing the waters, I decided to found a small business in March 2020- just before COVID began -what timing!   Over 2020, I began selling face masks.  It was a wild summer, selling over 800 masks!
Many people wonder what my business name means.  I am a geek- computer, science fiction, books, etc - and I have worked in the IT field for over 28 years.  I also sew and quilt   
The Geek In Stitches was born.
I am steadily adding new and interesting offerings, so stay tuned:  Geeky Crafting In Progress!
You can learn more about my various artwork at Behind The Artwork.