More Sea Turtles are coming!

The idea to do sea turtles first came to me while I was preparing to design something for my quilt guild, The Cotton Patch Quilters.   I knew that I wanted to go acrylic, but it took a few weeks to finale the idea on a Caribbean waters theme.  
The turtle was created using watercolor paint on a special fabric.   I use Inktense watercolor pencils and blocks and a special non-water based liquid called Fabric Medium.  There are at least 2 coats of watercolor, but it sometimes takes more to perfect the blending between colors.
I knew that it was going to need a lot of detail and I eventually had the idea to hand embroider the shell and limbs.  I had taken an on-line hand embroidery class the previous year and the two meshed perfectly, but it is very time consuming.   It can take between 3-4 hours to embroider each turtle and around 30 minutes to applique them onto the canvas.  The painted fabric is very stiff and takes a lot of finicky tucking and slow machine stitching.  Monofilament thread is also tricky to work with, since it's nearly invisible. 
Here is a section of the overall Caribbean waters piece that I named Tropically Submerged. You can see more photos and learn more about the Tropically Submerged in the blog post here.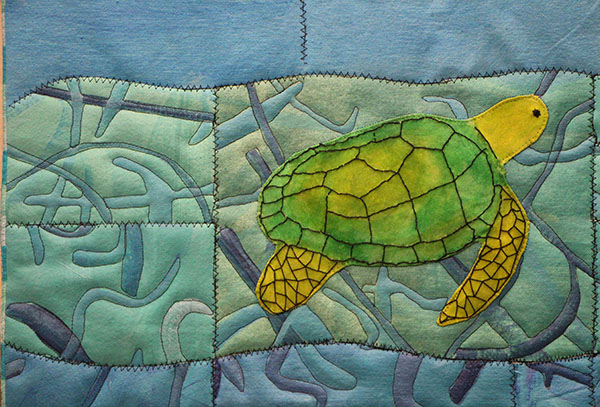 I began working on the new sea turtles a few weeks and and just finished painting the background canvas this weekend. 
Two of the turtles have been appliqued to their ocean and 'Seaweed' has been fused to their canvases.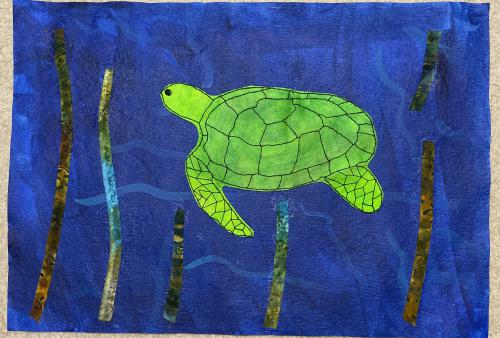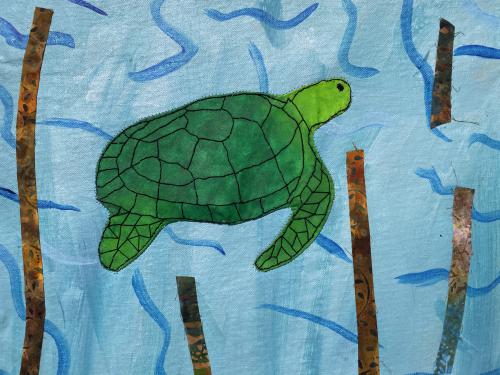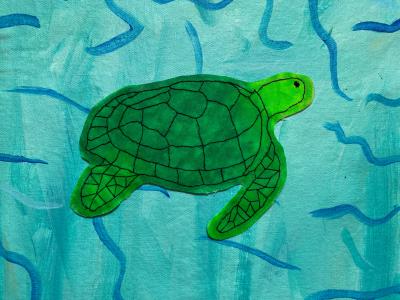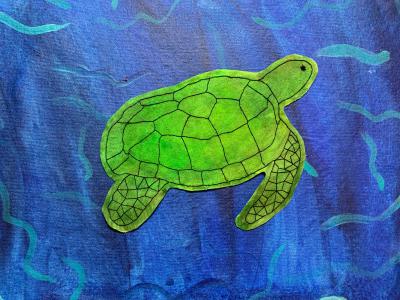 Rate this Geek Speak blog!