Stained Glass Styled Acrylic Quilted Art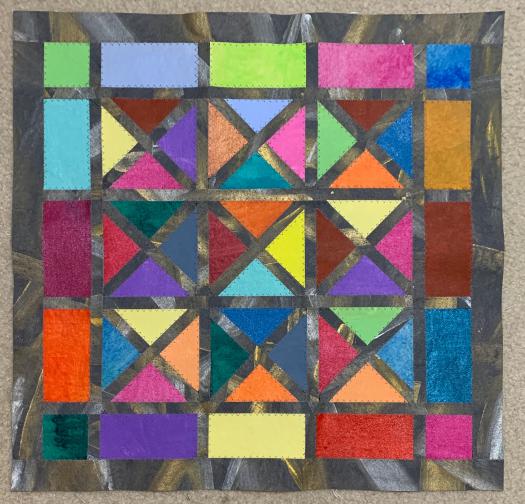 We went to DragonCon over Labor Day Weekend.   There was major overload!   It was estimated that 85,000 people attended the Science Fiction and Fantasy convention in downtown Atlanta.
I saw so many interesting things, but I ran across one vendor booth that really caught my eye.   His business name was Geek Orthodox (Website, Etsy &  Facebook) :  and he specialized in real stained glass, but also had window cling versions.   I had to pick up a Doctor Who Tardis for my office window!
I had already been thinking about playing with the stained glass technique, but didn't really get the momentum until after we returned home.
I had already prepared several large canvases, so I decided to cut them down into mini canvases to more manageable sizes.  Each were around 10" x 10" or 7" x 7, but they really varied.    I cut about 20 and chose a wide range of striking colors.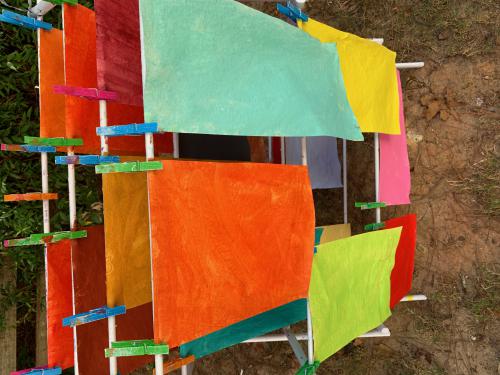 I cut a limited number of pieces, just to make sure I could actually pull this off.   I chose an odd size and still don't know why:  5" and 2.5".  This was a bad idea, but it still worked very good!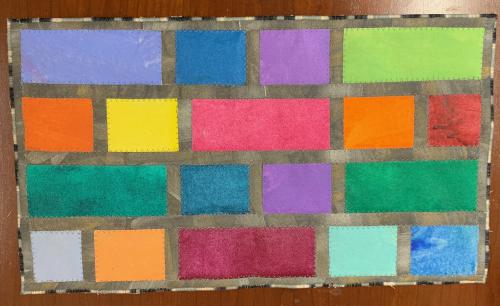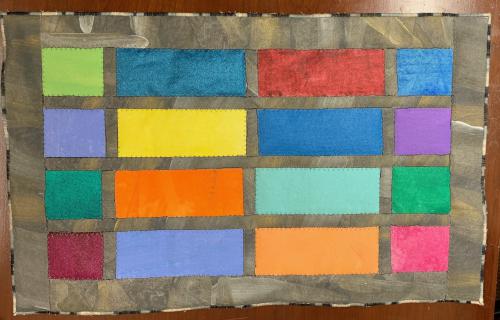 Once I saw the final product, I knew that would work.  I then added a bunch of additional canvases, coming to around 35-40.  I also standardize on 2" increments, but I spent a couple of days mulling over how to handle them.  An idea formed, but then I had to actually pull it off.
Roughly speaking, they are half square triangles that equal 4" x 4". There is small amount of trimming, but that gives me some wiggle room in the assembly process.  There were a few missteps, but not very much wasted canvas.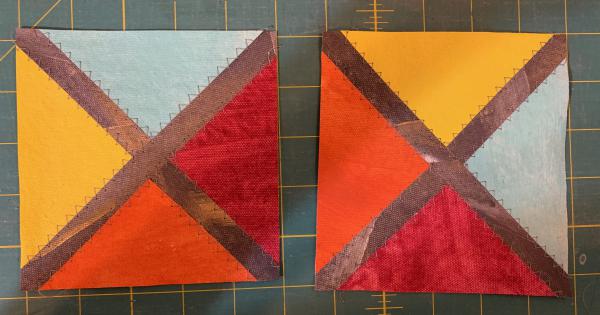 The first piece that I produced was absolutely gorgeous.  I have decided that this stained glass technique only needs to stitches in the ditch.  The color is the point and any additional quilting will take away from the overall play on color.   I knew from the start that I needed to use the gray border canvas with iridescent gold, bronze and silver.  I painted two super canvases the week before, so that I would be ready.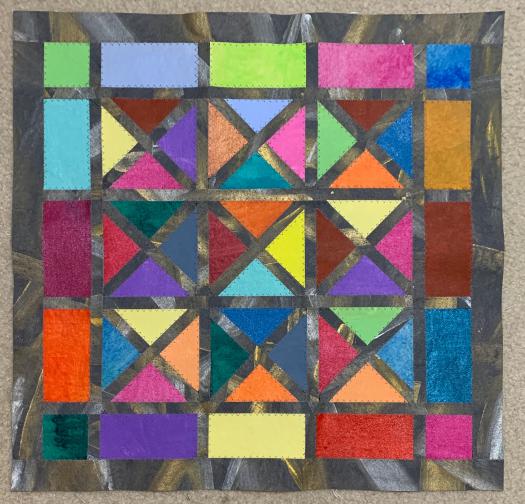 I have cut every possible 2" increment strip from the canvases, so I am now ready to charge ahead at full steam!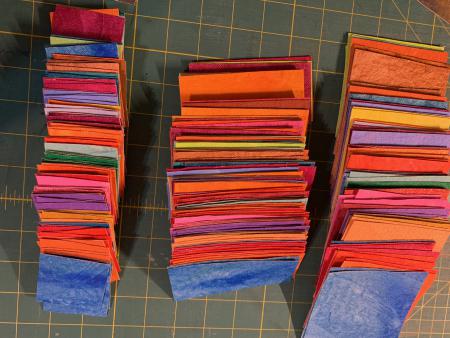 Rate this Geek Speak blog!