Thank you for taking an interest in my quilted acrylic artwork!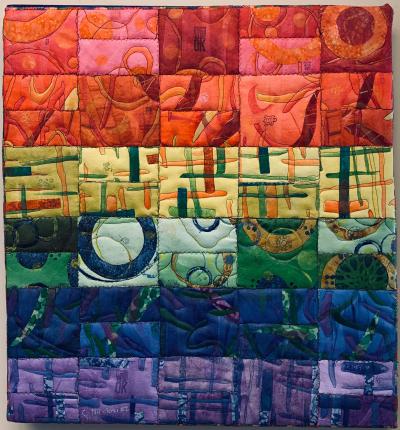 I've created this page to give you a better understanding about the process that I use to create my quilted acrylic painted wall hangings.
It starts with the lightest weight cotton canvas and each canvas starts out around 28" x 30".  These are cut from a very large spool of canvas- about 6 feet tall!
Before these raw canvas can be used, they must first be primed two different times, before they can be painted.  They must also dry for several hours between coatings.  I hang them on a collapsible laundry drying rack that found online with plastic clothes pins.
These canvases then receive an initial 'ground' painting.  A project typically includes 3 canvases that complement, contrast or are based on a theme.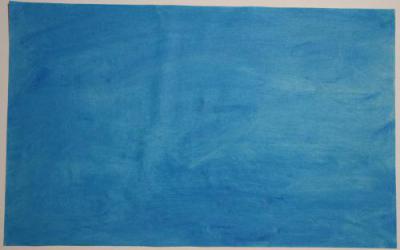 After drying, they are covered with a combination of paint strokes and imprinted with a wide variety of objects and rubber stamps.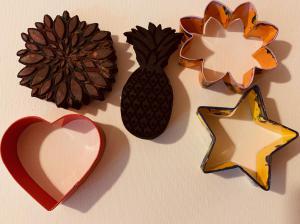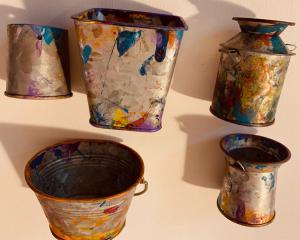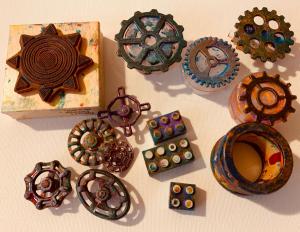 Some canvases received fabric (strips, squiggles, circles and event donuts!) that are fused onto the already painted canvases,using a GAC-100 mixture.  I choose the fabric based on what I'm trying to accomplish with the finished piece.  Sometimes the fabric on one canvas will match the paint color of another canvas. I've come to appreciate fabric with metallic sparkle, since it really comes through on the finished piece.  Typically, one will receive fabric and imprints, one will receive fabric and painted strokes and the third will only have painted strokes.    The overall businesses of the final piece is somewhat controlled this way.  You don't want too much going on everywhere!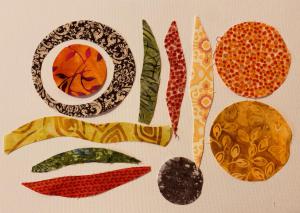 When all of these steps have been completed, a canvas will look something like this: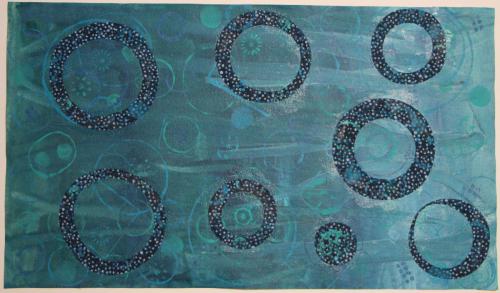 To reach that stage, it will have taken between 4 to 5 days to of daily work to complete.  It's usually impossible to have that much solid work time every day, though!  It's the drying times that really add up. This is why I usually work on 3 to 6 canvases at a time.
I've usually fallen in love with the canvases by now,  BUT - It's time for difficult decisions, because they must be sliced to pieces!  I think I almost hyperventilated the first time I did this.  I was afraid I was making bad decisions and would just ruin the whole weeks worth of work by making bad decisions.
Luckily, that was not the case!
I use a rotary cuter and ruler to cut the canvases into interesting squares, rectangles and other uniform shapes, typically in 2 inch increments. These are almost always considered fussy cuts - carefully choosing specific spots on the canvas.  Here are a few scraps from previous projects to give you an idea of what they will look like.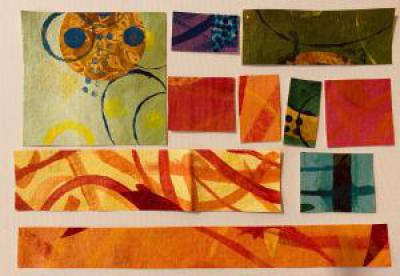 These pieces are then laid out into a design- just like regular quilting!  This is usually more time consuming than you would expect, because I am constantly shifting the shapes around to find a layout that looks just right.  That includes finding a balance between color, fabric, shape and paint.
Once that's achieved, it's time to start zigzag stitching them together!
It depends on how they are arranged, but I typically work in rows.  There are no seam allowances, so generally the order doesn't matter very much, but it depends on how and where the intersections occur.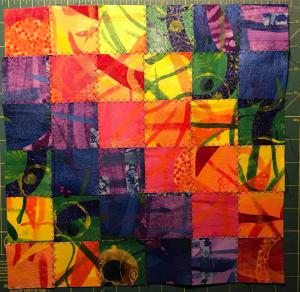 Next up, comes the preparation for quilting.
A layer of regular quilt batting is cut, so that it's about 1-2 inches larger than the piece.  This is just like regular quilting with fabric, except another section of raw canvas is cut and this becomes the back of the quilt.
Now the quilting begins! 
Most of the time, I quilt along and around each of the painted strokes, the fused fabric and the imprinted shapes.  These strategies vary, based on the piece, as I decide what may work best for the overall piece. It can be very free form, but it does take a certain amount of planning.
Like any quilt, it must now be squared, so that every corner is 90 degrees.   Accurate squaring is very important.
At this point, there are loose threads and raw canvas edge everywhere!  All of the edges are locked into place with a very close satin stitch.  This is very time and thread intense, especially with larger pieces.   I chose a thread color that compliments the theme or even contrasts it in some way- the sky is the limit!
Now another section of raw canvas needs to be cut. If you've been counting, this is raw canvas #3.  It must be 2-3 inches larger than the quilted piece.
The piece is centered on the canvas and zigzag stitched onto it.  The zigzag stitch allows the piece to be more easily stretched around the the frame. 
Break out the miter saw, because it's time to build that frame!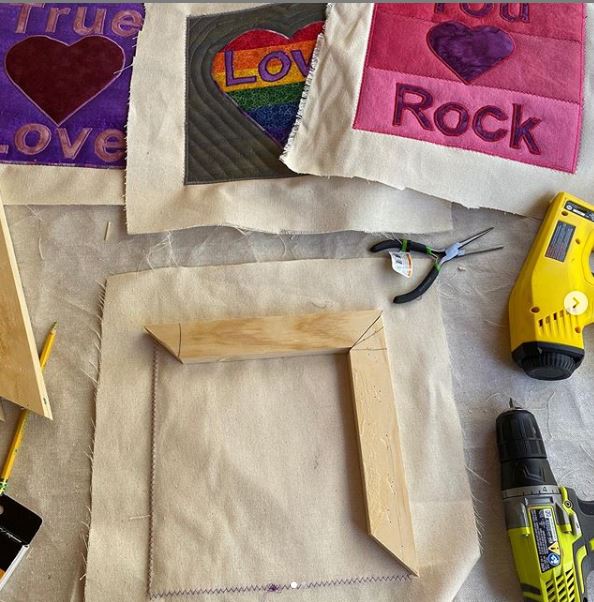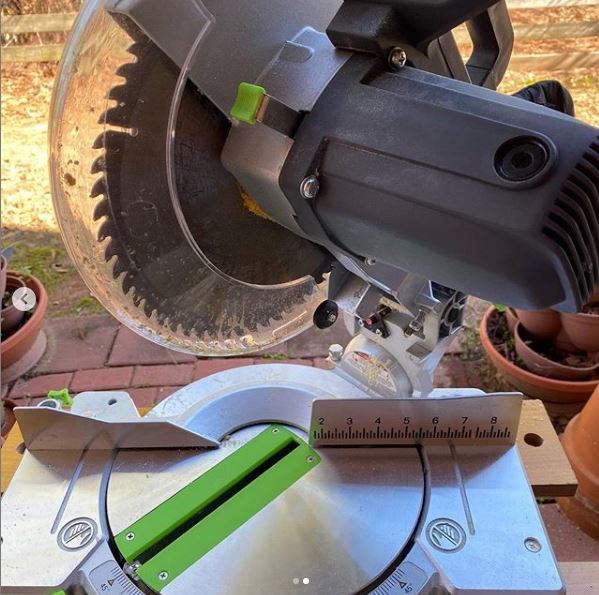 I tried to go cheap with a small jig saw.  That was a mistake, because there is no real control over the cut.  I gave up and bought a lower priced miter saw for around $145.
The wood must now be measured and cut at 45 degree angles to form the frame.
I stretch the canvas and test staple a few places to make sure it's going to wrap around correctly.  Sometimes the frame needs some adjustments- a trim here and there.  If it looks good, I then staple the frame together.  The canvas is wrapped around the frame and the stapled into place.
The excess canvas is trimmed away on the back side, but wait- there's loose canvas thread everywhere! 
And it will keep unraveling, unless it's locked down with an acrylic coating of GAC-100. 
Even though it's a very time consuming process, I have never had so much fun making something!
Photo galleries are available in the top navigation bar.
There are links below to other articles I have written related to the canvases and projects I've been working on.
Thank for for stopping by- I really appreciate your interest!
An overview of the equipment and costs associated with creating the artwork:
Learn more about the costs associated with creating the artwork:
An overview of why handmade items cost so much:
Photos and descriptions of several canvas themes that I will be working on in 2019.

Several of the pieces that have recently been finished.

 
Rate this Geek Speak blog!